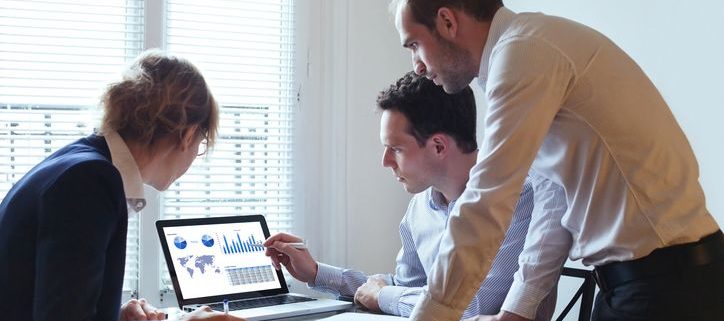 Australia's property market has experienced a significant downturn over the past year, driven mostly by losses in Sydney and Melbourne, but there are signs of an imminent improvement.
A growing number of buyers are starting to emerge with the belief that the downward trend will bottom out and plateau in coming months, before prices begin to rise.
Buyer's agent Nick Viner believes now is the time to buy in Sydney and Melbourne, with many discounted premium properties available with minimal competition.
"This environment is the absolute perfect time to buy because you've got more time to consider your options and there's more choice in terms of available homes," Mr Viner, principal of Buyers Domain Australia, said.
"You also have the ability to focus on really blue chip properties in your budget. You can bag a more superior property that you can really only get for cheaper in markets like this."
Most economists believe the total property price falls in Sydney will be within the vicinity of 15 per cent, which means some prime suburbs have already bottomed out.
"I saw the data out on Monday that the market in Sydney has come off nine per cent from its peak last year. What I'm finding in some suburbs is that price declines are probably closer to 10 to 15 per cent, even 20 per cent in some instances. I think we're probably reasonably close to the bottom."
Although this assessment is not universal, he said, with homes in less desirable suburbs and investment properties likely to see further falls.
"In general terms, the closer you are to the CBD the more likely prices will hold and then recover first."
When it comes to future price prospects in other markets, the latest analysis by BIS Oxford Economics concluded that Brisbane, Canberra and Perth will record the strongest growth in the next three years.
Although in almost all locations, the investor market is likely to remain sluggish in the medium-term due to tighter restrictions by banks and sharp falls in rental returns.
Rents have fallen in large parts of Sydney and Melbourne after a prolonged period of flat growth, Mr Viner said.
"That makes it an interesting time for investors," he said. "I can't recall a time where rents and sale prices have gone down concurrently."
Mortgage Choice boss Susan Mitchell said prospective buyers are struggling with tighter lending criteria from banks in the shadow of the royal commission.
Despite home values falling, it is much tougher to buy than during the boom due to difficulties in obtaining a mortgage, Ms Mitchell said.
"This tightened lending environment, means a larger number of Australians are experiencing difficulty securing a home loan due to new, stricter assessment criteria in which their savings and living expenses are being forensically examined."
Ms Mitchell believes house price slumps could usher in a new crop of buyers, who will eventually drive renewed growth.
"The decline in dwelling values, particularly in the nation's capitals, could open the door to those looking to get their foot in the property market," she said.
A survey of experts and economists by comparison website finder.com.au found the majority support ANZ's prediction of 15 to 20 per cent falls in total in Sydney and Melbourne.
"ANZ's suggested 15 per cent drop would see $145,500 and $118,500 wiped off the average house price in Sydney and Melbourne respectively," said finder.com.au insights manager Graham Cooke.
"A 20 per cent drop would see nearly $200,000 disappear from the equity of Sydney homeowners.
"If we do see these types of price drops in the market, recent homebuyers who laid down a 20 per cent deposit could see themselves in negative equity by the end of the year."
In one booming Australian city, you can pick up an entire family home for $250,000. And savvy investors are now snapping them up.
We all know Sydney's property market has taken hit after hit recently — but there are other lesser-known areas that are experiencing a sudden property boom.
That's according to Australian real estate experts, who claim that while investors may have deserted Sydney and Melbourne, their attention has turned to other regions across the country.
According to Daniel Walsh of investment buyer's agency Your Property Your Wealth, investment activity has now firmly shifted to Queensland.
"Net migration has now overtaken Melbourne due to the affordability that Brisbane has to offer," he explained.
"We're also seeing rising demand particularly in the housing sector in southeast Queensland where yields are high and jobs are increasing due to the amount of government expenditure around infrastructure which is attracting families to the Sunshine State.
"With Brisbane's population growth at 1.6 per cent and surrounding areas like Moreton Bay at 2.2 per cent, the Sunshine Coast at 2.7 per cent and Ipswich at 3.7 per cent, we are forecasting that Brisbane will be the standout performer over the next three to five years."
Realestate.com.au chief economist Nerida Conisbee agreed, saying Sydney investors especially had started to turn their attention north.
"In Tasmania, most activity is definitely taking place in Hobart, but it has shifted — a lot of the action was in the inner city, but it's now happening in the middle and outer ring suburbs, as well as in Launceston.
"Tweed Heads and Byron Bay (in NSW) have also had strong price growth at the moment," she said, adding that in Sydney, trendy inner-city suburbs like Paddington, the premium end of town and areas like Winston Hills in the city's west were defying the downward trend.
Ms Conisbee said long-neglected Adelaide was also finally booming after recently hitting the highest median house price ever recorded, largely driven by jobs and economic growth off the back of defence contracts, the announcement of the new Australian Space Agency and other investment in the area.
"Inner Adelaide, beachside and the Adelaide Hills tend to have the most activity but there's also quite a lot of rental demand in low-cost suburbs so we're expecting to see a bit more investment there in those really cheap suburbs over the next 12 months," she said.
"There you can get houses for $250,000 so for an investor, it's a relatively low cost in terms of outlay and the area is seeing really strong rental demand which means you're more than likely to get tenants, so for investors it's a really attractive area."
Mr Walsh said Sydney still remained a solid investment option in the long term — but stressed it was just not the right time to buy in the city due to its market cycle as well as lending constraints.
"While property prices in Sydney have softened by about 9 per cent this year, they are still high, which means it's not an affordable option for many investors," he said, noting the city's high buy-in prices coupled with relatively low rents made the yields quite unattractive.
"At this point in time, the high costs of entry as well as holding costs make it a location that should be avoided — but not forever," he said.
"The thing is, Sydney is still Sydney, which means that it will always be in demand.
"Its population is forecast to grow by some three million people in the decades ahead, plus it remains our nation's economic engine room."
He said the entire NSW economy remained "robust" with unemployment falling to 4.4 per cent last year, with Sydney's major infrastructure program also proving there was "much to be positive about" in Sydney.
"Sydney homeowners and investors who bought a number of years ago are still well ahead because they chose the optimal time to buy and they remain focused on the future," he said, adding the optimal time to re-enter the market probably wouldn't be for at least another year or two.
Queensland
In the Sunshine State, most activity has been centred around the South East and Gold Coast regions, with Brisbane, Moreton Bay, the Sunshine Coast and Ipswich booming along with the Gold Coast, Tugun and Burleigh Heads.
Tasmania
In Tassie it's all about Hobart, although activity has spread beyond the inner city and into the middle and outer rings, while Launceston has also recorded solid interest.
South Australia
The entire South Australian capital is booming, although most activity is happening in the inner city and Adelaide Hills.
NSW
While many investors have deserted Sydney, areas such as Paddington and Winston Hills and the nearby Central Coast are doing well.
Other booming areas are further north in Tweed Heads and trendy Byron Bay.
"Interest is strong in the Gold Coast across the board although there's more action on the south side in places like Tugun and Burleigh Heads," she said, adding there was also a notable trend towards Tasmania, Adelaide and pockets of NSW.
https://www.championbroker.com.au/wp-content/uploads/2019/02/Economists-market-interest-rates.jpg
483
724
CB_2017
https://www.championbroker.com.au/wp-content/uploads/2017/07/Champion-Broker-Logo-3-1.png
CB_2017
2019-02-08 04:25:05
2019-06-13 04:43:33
How Does Rental Do In 2019?